Which journal should I submit my paper to? That is a question that very often appears in the minds of those who attempt writing. First time writers often know very little about choosing a journal. It is not easy either.
Some points to ponder are: –
Who is your article really useful for? Research on a tropical disease is less likely to be useful for an American audience. A journal that has a larger circulation in tropical countries makes more sense as a choice.
Is the journal open access or free? If yes that is a great choice – as lots more people are likely to read your article. Of course, some open access journals charge a ragher high publication fee, but it is usually expected that the institution / research budget needs to include such costs. Many Indian journals are free and do not charge authors.
Another aspect to watch for is if a journal is predatory. If yes – you need to stay away from it. Now how do you check for several factors?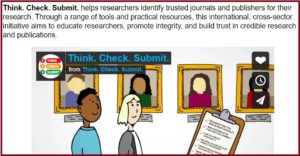 Think. Check. Submit. – https://thinkchecksubmit.org/ – helps researchers identify trusted journals and publishers for their research. The site has a bunch of tools and practical resources, to help you learn and aims to promote integrity and build trust in credible research and publications.
Follow the checklists available in this site to make sure you choose trusted journals and publishers for your research.