Current Courses:
Information Resources & Literature Searching (1 hr 30 mins)
Introduction to Referencing (45 mins)
Mastering PubMed (2 hrs ) + (1 hr 45 mins – optional advanced modules)
Reference Management with Mendeley (2 hrs)

Note: The timings indicated are for watching videos, please plan some extra time for attending MCQs and final assessments.
An average video is only of about 5 mins duration. For the PubMed course a participant gets a certificate by completing the first 2 hour module and assessment
In May 2021 we have added Discussion forums for all lessons in the PubMed and Mendeley courses. Participants can ask doubts or have discussions in these forums. 
In June 2021 we added a database of resources useful for searching and writing/reporting of research and a library of articles related to research, education, writing, evidence based medicine and more! (Watch a brief video here)
Note: The Advanced (optional) lessons in the Mastering PubMed course teach the steps in doing a detailed literature search to do a systematic review or meta-analysis. We also offer extra guidance via video calls, with screen sharing)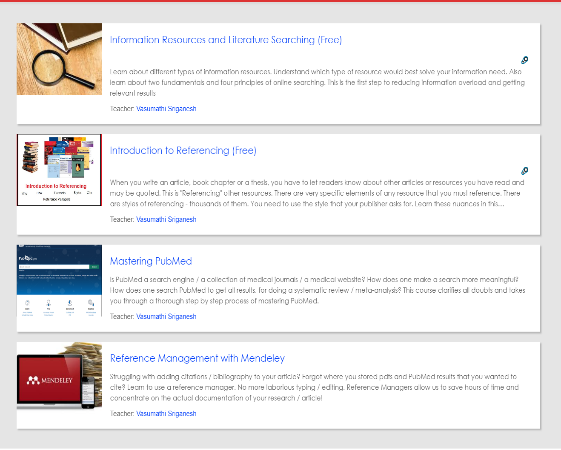 Page last checked / updated: 8-Sep-2023