Overview
Literature search is not about finding free full text articles
---
We regularly deliver Lectures on Literature Searching & Reference Management at Research Methodology workshops organized by medical colleges, associations, journals and conferences. Any health sciences institution may also invite us to deliver a lecture, independent of a larger event.
We also deliver lectures on searching for health information, created suitably for consumers, at any institution or for any group that invites us.
Our CEO is also often invited to deliver special lectures or keynote addresses on special topics relevant to research, information or libraries.
Vasumathi Sriganesh is an MUHS (Maharashtra University of Health Sciences) approved faculty. She is also an accredited Specialty Speaker of the Maharashtra Medical Council. Her Speaker Code No is MMC/MASS/00030/2016
A Special Request
QMed is funded only through its institutional workshop charges, donations by individuals and crowdfunding activities. It would really be helpful if we receive an honorarium (for each lecture) of Rs. 5000/- which would contribute towards the time and expertise in regularly updating these lectures.
But as a Foundation committed to making a change, we do accept lecture invitations irrespective of the amount offered as an honorarium
---
Feedback from a participant
"Your lecture tells us how much we do not know and need to know about literature search"
For Health Professional
We have delivered over 260 lectures in health science institutions/events/conferences across India.
Our Lectures on Literature Searching will sensitize you about:
Types of Information Resources
Foundational Tips on Literature Searching
Awareness about Evidence Based Resources
Faculty and students will be aware of various information resources and know where to look for information.
Our Lectures on Reference Management will sensitize you about:
Why there is a strong need for "managing references"
Simple tips on storing references in a software (Mendeley)
Citing and creating a bibliography from these in your article / thesis
Faculty and students will be aware of the basics of using the software for managing references.
These lectures contain just a "tip of the iceberg" in terms of the training that participants require in literature searching. They serve as an eye-opener to the participants and the heads of institutions about all that they need to know about literature searching.
They invite us every year:
Health Science Institutions
INHS Asvini, Mumbai
Dr M L Dhawale Memorial Homoeopathic Institute, Palghar
Seth GS Medical College and KEM Hospital, Mumbai
Lokmanya Tilak Municipal Medical College and Hospital (Sion Hospital), Mumbai
Podar Ayurvedic Medical College, Mumbai
Nair Dental College, Mumbai
Dr. Vasantrao Pawar Medical College Hospital and Research Centre, Nashik
Events/Conferences
FAIMER – Foundation for Advancement of International Medical Education and Research
NAPCON – National Conference on Pulmonary Diseases
AFPI- Association of Family Physicians of India
ICON- Indian Cooperative Oncology Network
Indian Journal of Ophthalmology (IJO)
For Patients / Caregivers
We deliver lectures on
"How to search the internet for reliable health information".
This lecture will be useful to any educated person who uses the internet to seek health information.
This lecture will be for a duration of 1 hour (45 min lecture and 15 min interaction).
The need to learn about health information resources and searching
The internet has become the most used medium to search for health information. However there is an information overload on the internet and anyone can easily put up information (which might not necessarily be true), in the public domain. There is a need to be cautious and to check the nature of information being put up and the reliability of the source putting up the information . Knowing various resources is not enough. You need to search these resources effectively to retrieve correct information. There is a structured way to 'search' too!
In this lecture you learn
To identify correct information resources
To classify information resources
About most important health information resources
The foundational principles of searching for information on the internet
We aim to help you
Save time in searching
Find the best available evidence
Discuss with your doctor and take informed decisions
At the end of the lecture you will be aware about the kind of information resource to search depending on the nature of your query.
Consumer Lectures so far:
Starting 2013 December we have conducted Patient awareness lectures at:
Health Education Library for People (HELP), Mumbai
Oracle Financial Services, Mumbai
Nehru Centre, Mumbai
Health Education Library for People (HELP) with specific focus on diabetes, Mumbai
Axis Bank, Mumbai
NSEiT- The IT subsidiary of the National Stock Exchange, Mumbai
Additional resources
Handout - We will share a handout with details of some of the most important online resources that you can search.
Click here to watch a 10 minute video that gives a quick idea of what we cover in lectures
Click here to watch a video of a lecture we delivered at the HELP library. (one hour duration)
Click here to download the presentation (made at the Axis Bank – 18 Feb, 2014)
Post-lecture Assistance
If you want to learn more about literature searching or you have queries related to specific disease/condition you can write to us and we would help you with the search. You could also drop-in at our office and we would be happy to help and guide you further. Consultation session at our office/through skype will be charged at Rs 1000/hour and queries over emails will be charged depending on our efforts and involvement required in addressing it.
What are the costs involved
We are a not-for-profit trust and our constant endeavour is to raise funds to sustain and take ahead our activities. The niche area of our work makes it difficult for us to raise funds from grants and other funding bodies. Hence, we would appreciate a donation towards this activity.
If you are a corporate house/association or any such entity which is inviting us to conduct a session for a group of 15+ participants, then you could decide on an amount and give it as a donation to our foundation.
If you are an individual attending a talk at a public venue (such as the Nehru Centre or HELP library) then you could give any amount of your choice as a donation.
Helping patients and their care-givers to seek reliable health information and participate responsibly in health care decisions
Recent Lectures
Lectures on Literature searching and reference management delivered so far. (Vasumathi Sriganesh is recognized by the MUHS for such lectures in their Research Methodology Workshops)
Nair Dental
Date of lecture: 02-08-2018
Grant Medical College
Target Audience: PG students
Date of lecture: 25-07-2018
KEM- Preventive and Social Medicine
Target Audience: PG students
Date of lecture: 19-07-2018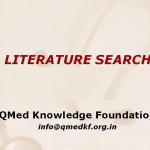 Vasantrao Pawar Medical College, Nashik
Target Audience: PG students
Date of lecture: 01-07-2018
B.K.L. Walawalkar Rural Medical College, Sawarde, Chiplun
Target Audience: Employed/Practice
Date of lecture: 27-06-2018
B.K.L. Walawalkar Rural Medical College, Sawarde, Chiplun
Target Audience: Employed/Practice
Date of lecture: 27-06-2018
KEM – Department of Anesthesiology
Target Audience: PG students
Date of lecture: 26-06-2018
All India Occupational Therapists' Association – II
Date of lecture: 24-04-2018
Recent Special Lectures / Keynotes
Ms. Vasumathi Sriganesh is often invited to deliver special lectures and keynote addresses at events. Here is a listing of such lectures.
National Board of Examinations
Target Audience: DNB students
Date of lecture: 12-01-2018
Seva Mandal College of Nursing
Target Audience: UG students, PG students, Employed/Practice
Date of lecture: 10-01-2018
42nd Annual Congress of Association of Oral & Maxillofacial Surgeons of India
Target Audience: PG students, Employed/Practice
Date of lecture: 17-11-2017
Maharshi Dayanand College of Arts, Science and Commerce
Target Audience: Full-time Phd
Date of lecture: 09-09-2017
Sun Pharma-Webinar
Target Audience: PG students
Date of lecture: 11-05-2017