What's New in QMed?
May 2020
QMed's Online Course
A total of 100 people completed the PubMed Basics online course.
February 2020
QMed's Lectures for this month:
Lectures: Dinanath Mangeshkar Hospital-Pune, Vivekanand Education Society's College of Pharmacy-Mumbai, Association of Biochemists – at DY Patil University,-Kolhapur, Nutrition Society of India Mumbai Chapter- Nirmala Niketan College of Home Science-Mumbai
January 2020
QMed's Workshops/Lectures for this month:
Workshops: AFPICON KERALA 2020
Lectures: Canvas of Clinical Pharmacology Workshop 2020 at KEM Hospital, Research Methodology Workshop at APM's Ayurved Mahavidyalaya, Maharashtra University of Health Sciences-Lecture in a Research Methodology Workshop at Government Dental College and Hospital
December 2019
We delivered lectures at Research Methodology workshops in the following institutions
YMT Homeopathic Medical College – Dec 3, 2019
YMT Ayurveda Medical College – Dec 4, 2019
November 2019
QMed's Founder – Vasumathi is featured in openinterview.org – 27-11-2019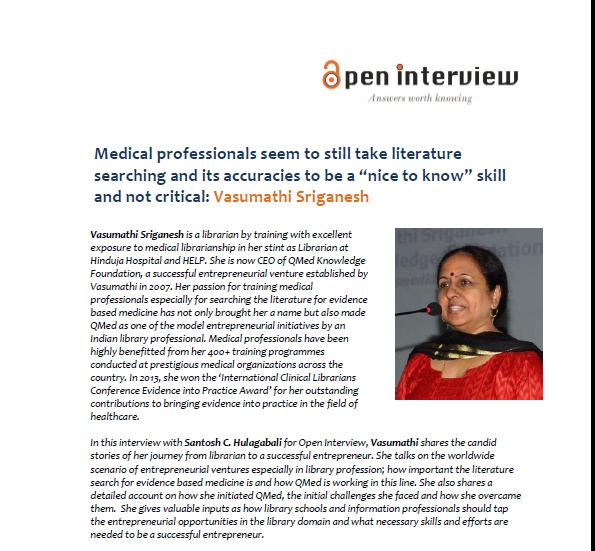 November 2019
QMed's Workshops/Lectures in Mumbai for this month:
Workshops: Half day interactive workshops at Nanavati Super Speciality Hospital on 2nd November and 5th November
Lectures: At Government Dental College and Hospital on 6th November and MGM New Bombay College of Nursing on 28th November
October-2019
Two New Online Courses Available!
QMed has added two new Online Courses – Mastering PubMed: Advanced and Reference Management with Mendeley. To register, visit https://qmed.mediknit.org When you register you get access to all three available courses. Our first course – Mastering PubMed: Basics is mandatory before you do either of the new courses.
To know more about getting support from QMed, do visit www.qmed.ngo/friends
September-2019
Manipal Academy of Higher Education to make QMed's Online Courses available to their students & faculty
We are delighted to announce that the Manipal Academy of Higher Education has signed up with us to make our Online Courses available to their faculty and students in three of their institutions – Kasturba Medical College Manipal, Kasturba Medical College Mangalore and Sikkim Manipal University, Gangtok. One thousand faculty plus students across these campuses will be able to enrol for our courses. MAHE is the first group of Academic Institutions to subscribe to our courses. Our courses are hosted with Mediknit, a Bangalore based entity that has helped several medical associations to create ELearning courses.
We trust that this will encourage many more institutions to follow suit, to help their health professionals and students learn literature searching and reference management skills.
July-2019
In July we were invited to conduct a special two day workshop at the ICMR RMRC, Bhubaneswar. The workshop was held on July 27 and 28. We had twenty five participants – a mix of Students of a Masters Degree in Public Health, PhD scholars, medical doctors and other research personnel.  
At the end some senior scientists declared that this workshop should be conducted in all the ICMR centres
May-2019

In 2017, QMed was awarded three badges from GlobalGiving. This year – we got a fourth badge – for Effectiveness.