Quality Medical (QMed) Knowledge Foundation - a Registered Trust - works in a niche area of medical education and research: "Searching medical literature, and reference management"
What? Searching? Is this an issue at all? The answer is "A Resounding YES"
---
QMed: For Health Professionals
As a health science student or professional, you always need to stay updated with the latest research and research syntheses and apply it for patient care. Your basic medical education provides the fundamental background knowledge but does not teach you to search medical information in a systematic manner.
QMed identified the need to train health science students and professionals to search medical literature from various online databases and cite it correctly. Since our inception in 2007 we have conducted over 385 lectures and 225 workshops in health science institutions/events across India reaching out to more than 20,000 students and professionals.
QMed: For Health Consumers
In the recent years, Internet has become a an important source for medical information: whether it is reading up about a disease or understanding the treatment process outlined by the doctor.
Have you ever wondered how doctors / health professionals know what the most effective treatment option is? The medical curriculum does not train the doctors in searching. This can be worse for consumers and patients! So as consumers how do you find out which resources you can use? And how do you understand reports of research? Again – no one really teaches this.
"We have delivered many lectures (watch this one) and are ready to do lots more!"
So, what we teach, is not Just Literature Searching (aka Googling) , but Literature Searching with a scientific approach.
The art of medical literature searching….simplified…
---
Quality Medical (QMed) Knowledge Foundation is a Public Trust registered with the Charity Commissioner, as of Dec 19, 2007.
Our aim is to help medical students, academicians, practitioners and consumers integrate best practices in searching medical literature, and critically appraising the same, resulting in delivery and availability of optimal health care services. Our long term efforts include advocacy with governing bodies like Medical Council of India (MCI) to make our teaching a part of the medical and health sciences curriculum.
Details about our Trust
Registration no is E-24663.
FCRA Registration no is 083781318
Permanent Account Number – PAN – is AAATQ0120B
All the donations made to our Foundation are exempt from income tax under section 80G of the Indian Income Tax Act.
Downloads:
80G certificate. (As per later amendments, the certificate now is valid without any date limit).
FCRA Registration (We are registered since February 2012, and our current certificate is valid from 24/02/2017 to 23/02/2022)
A journey of a thousand miles must begin with a single step. -LAO-TZU, Tao Te Ching
---
Why QMed
Ms Vasumathi Sriganesh in her career as a medical librarian and consultant since 1992, realized that medical students and doctors were not trained in searching medical literature and using medical information resources. 'Quality Medical Knowledge Foundation' (QMed) was set up in 2007, to address this lacuna in the field of medical literature searching.
The Foundation is Set
In December 2007, the Not for Profit trust was set up to promote awareness of the importance of learning to search literature correctly. We also felt the need for engaging in advocacy with the concerned bodies to include it in the medical curriculum.
Baby Steps of our Foundation
We have been conducting training programs and lectures on literature searching across the country. The assessment and feedback that we collected through these programs showed that there was a deep lacuna in this area of medical education and a need to introduce such training in the medical curriculum.
UnLtd India ... UnLtd Ideas...
In the third year, our CEO was selected as an investee of UnLtd India (
www.unltdindia.org
). This support helped us interact and brainstorm with several experts, and helped us review our work and explore.
UnLtd India asked us a crucial set of questions:
What is the impact of your work?
What change is it making in the medical education system?
How will it create a social impact?
Renewed Strategy
We worked on these questions and changed our strategy – To become change makers, capacity builders and a resource base for those in the medical education sector. Since April 2011, we have been engaging in a capacity building exercise in medical colleges, teaching hospitals and research institutions. Our long term dream is to ensure trained trainers in every institution.
So many of our dreams seem impossible, then improbable, then inevitable."— Christopher Reeve
---
Vision
Health care services to society will be based on the effective utilization of the best available current evidence from systematic research.
Mission
To enable health professionals, institutions, patients and health consumers working in the health care sector, to obtain the best evidence from systematic research, in order to ensure accurate delivery and availability of optimal health care services.
Objectives
To conduct training programs to equip students, faculty and researchers with skills needed for Evidence Based Practice
To create high quality teaching aids to supplement training programs
To enable the health science community to access reliable and up-to-date medical information
To enable medical libraries to enhance resource-sharing activities
To conduct workshops for health consumers and patients to help them find reliable evidence based information so that they can communicate correctly with health providers and participate responsibly in their own health care
To collaborate with individuals and organizations with similar goals
Our Dream
Literature searching and referencing training to be part of the medical education curriculum
Trained professionals in every teaching institution to teach and support students and professionals in good literature search and referencing practices
Every health care institution providing access to important, evidence based resources to its students and faculty
Institutions sharing resources, with effective technology usage, and adhering to good copyright practices
Coming together is a beginning. Keeping together is progress. Working together is success.
-Henry Ford
---
Board of Trustees
Dr. Anand Shandilya, MD DCH

Dr Anand serves as the Director at Dr Anand's Hospital for Children, and is the Secretary of Indian Academy of Pediatrics (I.A.P), Mumbai. He is the elected life member the Indian Academy of Pediatrics. He has been in practice since 1990 and presently runs a 17 bedded Pediatric hospital with NICU in Mumbai.

Dr. Bhavin Jankharia, MD, DMRD

Dr. Bhavin Jankharia is a Radiologist who is Partner & consultant at "Picture This". He was earlier President of Radiology Services at SRL Diagnostics and was Partner and consultant Radiologist at Jankharia Imaging. He runs a non-profit organization - Radiology Education Foundation (REF). He has served as the editor of the Indian Journal of Radiology and Imaging, and as President of the Indian Radiology and Imaging Association.

P. Sriganesh, BSc, FCA, FCS

A Fellow member of the Institute of Chartered Accountants of India. Sriganesh has over 38 years of experience in the IT industry and NBFC sector having set up several Companies in India. Between 1986 and 2000 he worked in senior financial positions in Citigroup India. He is a co-founder and Treasurer of NASSCOM- the Indian IT industry's Business Association.
The QMed Team
Vasumathi Sriganesh, MLIS - Honorary CEO

A librarian who has worked in the healthcare sector since 1992 - was the Chief librarian at the Hinduja Hospital and the consumer health library - HELP. She has undergone special training in searching the literature for "Evidence Based Medicine". In 2013, she won the 'International Clinical Librarians Conference Evidence into Practice Award' established in the same year, to honour a practising librarian or informationist who has made outstanding contributions to bringing evidence into practice in the field of healthcare. She is also a recognized faculty of the Maharashtra University of Health Sciences, for Research Methodology workshops.

Vasu Ma'am as she is fondly called combines her love for medicine, library science, teaching and technology with a radiant smile constantly innovating and improvising in making medical literature searching simple and easy.

Fatima Shaikh, MLIS - Project Associate

Fatima joined us in August 2014. She has a Masters Degree in Library & Information Sciences. She had worked for QMed earlier too and then worked for a library software company and in media libraries, gaining strong IT and web skills. She is applying her skills to maximize automation in QMed, working on our E-Learning courses, and is also seeing how our Directory of Indian Medical Sites can be strengthened.

In just over a month of being here, Fatima's mind is racing ahead to plan for maximizing the impact of our websites. A "technology sponge", she is a librarian who soaks in technology, and her face breaks into a smile if she needs to do any kind of technology R&D!
Honorary Specialists:
Dipti Suvarna, B.Sc.

Has been with the Foundation since its inception and currently handles the complete website and document delivery portfolio. She also assists with training when required.

Systematic, meticulous with an eye for detail.

Her service to the foundation is on a honorary basis.

Parvati Iyer, MLIS - Director, Projects

Ms. Parvati Iyer has been with the Foundation since its inception. A library professional with over 25 years of experience, she has worked for the Mumbai University Library and Department of Library Sciences, and still teaches there. She has exposure in handling database creation, information technology applications in libraries, and in teaching. She handles website projects, document delivery and is a faculty in our training programs

A patient teacher with years of experience and expertise.

Her service to the foundation is on a honorary basis.
Administration and Accounts:
Jayanthi Raghunath, BSc

Has been with QMed since inception and handles Accounts and Administration activities.

Behind the scenes yet invaluable contributions.

Her service to the foundation is on a honorary basis.
---
Note:
Everyone whose services are on an honorary basis work for QMed Services Pvt Ltd which does document delivery activities for the Industry. All of them contribute deeply to the Foundation's work and the income they generate from document delivery activities helps us to keep our fires burning!
<!- column ends here ->
<!- row ends here ->
<!- tab pane ends here ->
Write up about Vasumathi Sriganesh in Stars of Startups - Digital Magazine, 14-03-2016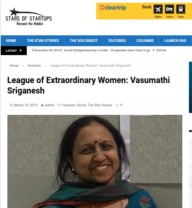 Coverage of QMed in Mid-day , 06-05-2012
---
QMed's First Anniversary in DNA Mumbai, 15-01-2009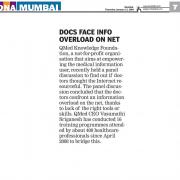 Coverage of QMed in the Indian Express, 14-01-2008
Achievements
Vasumathi Sriganesh invited to be a member of GlobalGiving's India Leadership Council. - May 16, 2018
Vasumathi Sriganesh has been invited by GlobalGiving to be a member of their India Leadership Council. She will be assisting, when required any NGO from India, currently listed with GlobalGiving and soon, she will also help new NGOs that require help to get onto GlobalGiving. We are honoured that she has been featured in
GlobalGiving's India
page
GlobalGiving chooses QMed for a mentoring program to increase its Social Impact - May 15, 2018
We are now part of a selective cohort participating in their Social Impact Academy, which focuses on teaching us how to plan and measure the long term impact of what we do. We have embarked on a major self-learning activity through this forum, and wish to work on the Social Impact of QMed with full gusto. Our standing in
GlobalGiving
has also improved by leaps and bounds. Our project rank has shot up (currently 315/4424) where earlier we were in a 1000+ ranking We have taken part in a campaign that taught us new ways to approach people for funding.
Our First E-Learning Module is Live! - May 13, 2018
We are happy to announce that our long cherished dream of having an E-learning venture is now a reality. The first of our E-learning courses on Mastering PubMed is now up and running. You will have access to 11 lectures elaborating using PubMed as efficiently as you can. We've also provided quizzes and a final assessment to test your understanding. In addition, we provide you with mentoring support for a year! To know more about this, visit
www.qmed.ngo/elearning-reg
First workshop in collaboration with the Campbell Collaboration & Chitkara University, Chandigarh - Jan 31, 2018 - Feb 1, 2018
We will be doing our first workshop in collaboration with the Campbell Collaboration & Chitkara University, Chandigarh. This is a workshop on "Searching for Studies for doing a Campbell Systematic Review". The course will cover details about what it takes to develop an effective search strategy for a systematic review. The importance of using both thesaurus terms as well as all possible text words, the use of Boolean operators and truncation symbols will be covered in detail. The steps in creating a systematic search strategy that can be documented and reported will be demonstrated.
For brochure click here.
Launch of a payment solutions platform for Fundraising on our website
We incorporated a payment solutions platform for Fundraising on our website on
December 26, 2017.
For Indian donors, the process of giving a donation is now really simple. One can donate using a debit or credit card, do a bank transfer or even have a cheque picked up - just by filling in details on the Danamojo platform. The debit and credit card options will work for International donors too, but we recommend that these donors use the GlobalGiving option. Do go to our updated
Donation Page
to see both options. For those in India, do try the Danamojo option. You will make a fresh start in helping medical students and researchers learn about searching for evidence, for 2018
Vasumathi Sriganesh's name is included in the Maharashtra University of Health Sciences' list of approved faculty for conducting Research Methodology Workshops
Vasumathi Sriganesh received partial support via the Developing Country Support to attend the Cochrane Colloquium in Madrid - Sep 2011
Our CEO -Vasumathi Sriganesh is the only librarian from India to receive Bursary for the ICML - Brisbane, Australia- Sep 2009
Milestones
August 2018 - Fifteen participants have completed the "Mastering PubMed: Basics" ELearning course
July 2018 - QMed invited to collaborate with The Union (IUATLD) to conduct a workshop in Bhubaneshwar for 20 participants - Medical Teachers & Public Health researchers
May 2018 - Our first ELearning course - "Mastering PubMed: Basics" was launched
Nov 2017 - QMed invited to collaborate with The Union to conduct a workshop in Mandalay, Myanmar. The first International workshop for QMed
July 2017 - We conducted our 200th Workshop. This was part of our "100PGs program"
April 2017 - QMed invited to collaborate with The Union (IUATLD) to conduct a workshop in Shillong for 20 Medical Teachers
Oct 2016 - QMed invited to collaborate with The Union (IUATLD) to conduct a workshop in Delhi for 20 Medical Teachers
June - 2016 We delivered our 300th lecture at Rajiv Gandhi Medical College, Kalwa, Mumbai
Aug 2015 - Invited to deliver a 3 hour session at a Systematic Review workshop, jointly organized by The Union, The Cochrane Infectious Disease Group, Liverpool School of Tropical Medicine, and the South Asian Cochrane Centre,
Sep 2014 - We delivered our 200th lecture at DY Patil Ayurveda College, Navi Mumbai
Sep 2013 - QMed qualifies to be part of GlobalGiving, USA for crowdsourcing
Feb 2013 - We conducted our 100th workshop at Bharati Vidyapeeth University Medical College, Pune
Dec 2012 - We delivered our 100th lecture at Bombay Hospital
Aug 2012 - The Society for Medical Learning and Resource Transfer - SMLRT, Chennai agreed to give us partial funding for our workshops
February 2012 - Received FCRA Registration
We conducted our first Workshop (PubMed Basics) on April 24, 2008
2008 - QMed received 12 A and 80G Certificate
Inception of Quality Medical Knowledge Foundation (QMed) - Dec 16, 2007
We strongly believe in maintaining transparency in our functioning as an organisation. In keeping with this principle, we have answered questions that we are asked frequently. If you have further queries, do get in touch with us; we will be happy to respond.
---
FCRA Donations
The Rules pertaining to Foreign Contributions have had some amendments in end 2015, one of which is about displaying the amounts on our website. Accordingly, an organization receiving foreign contribution in a quarter of the financial year is expected to share details of foreign contribution received on its official website or on the website specified by the Central Government within fifteen days following the last day of the quarter in which it has been received clearly indicating the details of donors, amount received and date of receipt. Here is our list of donations
QMed Knowledge Foundation
A-3, Shubham Centre, Ground Floor
Cardinal Gracious Road, Chakala,
Andheri East, Mumbai – 400099.
Tel: 91-22-40054474 / 75
Email: info@qmed.ngo
Nearest Metro Station: Western Express Highway, abbreviated to WEH, is the nearest metro station to QMed.