Our Progress, Achievements and Milestones
February 2019
We delivered our 410th lecture, at Seth GS Medical College & KEM Hospital
January-2019
Vasumathi Sriganesh mentors around 25 participants of MECOR
MECOR is an annual event conducted by a section of the American Thoracic Society, to strengthen research skills in India. Vasumathi Sriganesh has participated in this for years; this was the seventh year. This year, participants were made to view her recorded lectures before the event, work on search strategies for their topics and get mentored to improve them. The experiment was pretty successful! Her contributions to this program are well appreciated by the faculty from the American Thoracic Society

January 2019
With deep regret, we share that we lost our Trustee – Dr Anand Shandilya. He succumbed to a heart attack on the 1st of January 2019, leaving a void at QMed.
December 2018
Twenty five people have successfully completed our ELearning course – "Mastering PubMed – Basics"
November 2018
QMed's story of change in UnLtd India's blog 26-11-2018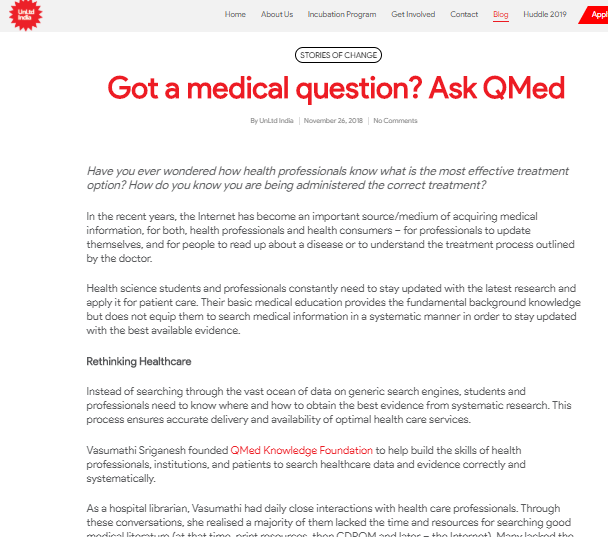 November 2018
UnLtd India writes about QMed!
UnLtd India is an organization that mentors start up / young not for profit organizations. QMed was one of the early investees of UnLtd India (in the year 2010-11). UnLtd India covers QMed in their recent blog post – Got a medical question? Ask QMed
October 2018
We delivered our 400th lecture at the Fortis Institute of Nursing, for their student nurses
October 2018
AMASI enrols for our ELearning Course
The Association of Minimal Access Surgeons of India has taken our ELearning Course "Mastering PubMed", for all its 10000 plus members
October 2018
We got the first Institutional subscriber (AMASI) for our ELearning Course – Mastering PubMed.
September 2018
Nandini Dasgupta attends a Gyan+ Session
Our intern Nandini represented QMed at the Gyan+ event – "Organisation management and leadership development program on September 24-28,2018" hosted by IVolunteer in association with Singapore International Foundation. It was a lively, uplifting event, with a lot of learning. A number of NGOs came together to discuss the theory of change, what makes leaders different from managers, how to identify personalities in a work place, and the communication and marketing strategies we could use to better ourselves and reach out to more people. Towards the end, the participants made presentations of their version of a theory of change implementation. We internalized the model and are hoping to implement it for a number of our initiatives.