QMed's Online Courses
QMed has taught literature searching and reference management since 2008 April – via lectures and workshops. We also teach and support literature searching for authoring systematic reviews and meta-analyses
We got our first course online in May 2018, and in September 2019 we added two more courses. During the lockdown in 2020, we restructured the courses (included the "new PubMed") and got them up and ready in June 2020.
Why are our courses important?
Medical practice evolves with research
Literature search is the foundation of research
If the foundation is weak, the research is weak
Weak results do not contribute to evidence
Good research -a must for evidence based practice
Do you need our course/s? Please click this link to test your information literacy
Between August 2020 and May 2021, the information literacy test was taken by 134 people. The scores below indicate that 61% of people scored 0-2/5 – which is a score less than 50%
|   | Participants | Score 0/5 | Score 1/5 | Score 2/5 | Score 3/5 | Score 4/5 | Score 5/5 |
| --- | --- | --- | --- | --- | --- | --- | --- |
| Numbers | 134 | 13 | 30 | 39 | 24 | 19 | 9 |
| Percentage | 100 | 10 | 22 | 29 | 18 | 14 | 7 |
Current Courses:
Information Resources & Literature Searching
Introduction to Referencing
Mastering PubMed 
Reference Management with Mendeley
**In May 2021 we have added Discussion forums for all lessons in the PubMed and Mendeley courses. Participants can ask doubts or have discussions in these forums**
Note: The Advanced (optional) lessons in the Mastering PubMed course teach the steps in doing a detailed literature search to do a systematic review or meta-analysis. We also offer extra guidance via video calls, with screen sharing)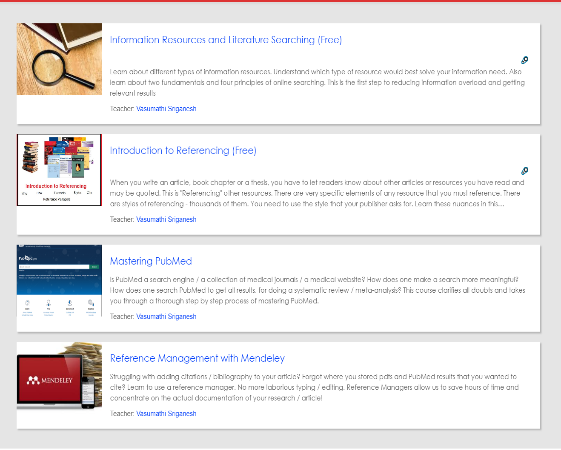 Accessing our courses
Anyone can register on www.qmedcourses.in and access the first two courses – "Information Resources and Literature Searching" and "Introduction to Referencing". The courses can be done on a computer, laptop or on mobile phones – both via an app or browser.
Before registering, please see the Instructions page We charge Institutions an Annual fee. We ask individuals to make a donation of their choice to support our courses and get access to them. Details below
Individuals and Institutions outside India, do write to us for information about accessing our courses
Pharmaceutical and healthcare companies in India, please write to us at info@qmed.ngo to know about access charges for corporates. We also welcome your support towards our initiatives
Feedback and Testimonials
Some testimonials for our online courses
Information Resources & Literature Searching: Very useful, excellent way of explanation. Quite informative.
Debadatta Mohapatra, Dept of Psychiatry, AIIMS Bhubaneswar
Introduction to Referencing: Heartfelt thanks for a wonderful and informative lesson!!
Meera M. Dept of Pathology, Sri Manakula Vinayagar Medical College & Hospital, Puducherry
Mastering PubMed: The course is very elaborate and understandable, The teacher teaches with cool pace which anyone can understand. I really appreciate the effort to teach every details in the PubMed. 
Gunaseelan P. Sikkim Manipal Institute of Medical Sciences
Reference Management with Mendeley: I am really thankful to you. I was just totally unaware of how to use a reference manager. It helped me a lot.
Satya Prakash Dept of Transfusion Medicine, AIIMS Bhubaneswar
Support our courses
QMed Knowledge Foundation has a small team that has produced very useful courses. We need support to keep our courses up to date, making improvements as and when we feel the need to or if we get suggestions to, and to add new courses. If you are willing to support our courses, please visit www.qmed.ngo/donate and donate to one or more of our online course related donation options.
Page last checked / updated: 15-May-2021