Knowledge, attitude, practice, and barriers toward research among medical students: A cross-sectional questionnaire-based survey.
Pallamparthy S, Basavareddy A.
Perspect Clin Res. 2019 Apr-Jun;10(2):73-78.
doi: 10.4103/picr.PICR_1_18. ; PMID: 31008073; PMCID: PMC6463502.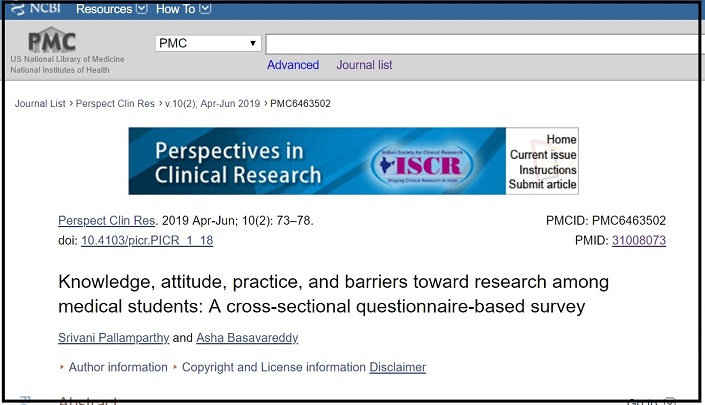 This is an article after my heart! The authors voice our sentiments, when they say that medical students should be trained in the methods of carrying out research as they will be future doctors who will have to practice evidence-based medicine in patient care. Evidence based practice means, that they must find scientific research which, with a systematic approach tell them which theories and hypotheses are proved or disapproved , and base their practice, armed with this knowledge and applying it to their practice, in conjunction with their clinical expertise.
The authors state that in the medical college, undergraduate involvement in research was less because of various factors like – a vast curriculum, less exposure to research methodology, and lack of time. They feel that when these students get into their postgraduation, their ability to write a protocol or proposal is not up to mark. We agree! And many faculty have expressed this too.
Some of the regulatory bodies encourage undergraduates and postgraduates to carry out research by providing grants. The well known effort is by the ICMR – STS grants. But in spite of these facilities by the regulatory organizations and the institutes to increase the research by undergraduates, there is lack in the research quantity and quality. Adequate knowledge and positive attitude toward research is an essential component toward increase of research among them. This article is about the authors' efforts to assess the knowledge, attitude, experience, and barriers toward research among the medical undergraduates.