When you type in a query like "Famous surgeons in India" in the Google Search box, you see a picture carousel of several surgeons, followed by a host of relevant search results. Have you wondered how this works? We broadly know about terms like result ranking, search engine optimization and more. But let us understand this better. Let us learn about the "Google Knowledge Graph". If you are someone who enjoys exploring new ways to search and looking for things online, you should definitely understand this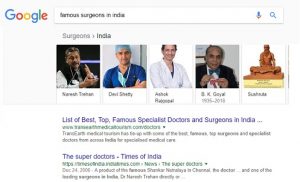 Google Knowledge Graph is Google's way of putting facts, faces, and places together as systematically as possible. In simple terms, it is a database collecting millions of pieces of data about keywords that people normally feed in the World Wide Web. Using this graph, you can get information of all kinds that is interconnected in some way.
Essentially, the Knowledge Graph is meant to supplement the standard, operative search bar. It comprises those crisp, to the point answers that you receive when you ask Google any question. It is a tool for quick answers to your queries, along with suggestions for resources that will help you in future searches.
Information that you source from the Knowledge Graph comes in a box in the search result page. Google notes that this information comes from various sources, some being the CIA World Factbook and Wikidata. The knowledge base has increased manifold since its inception- it now covers about 570 million entities and 18 billion facts.
There are a number of resources that could be of use to you here- particularly if you are someone who is interested in education. There are live and online tutorials, lessons charted out and planned, and interactive class components. Newer developments such as the Voice Search and Carousel have made the product friendlier for end users. There are ongoing efforts to make the search engine congruous with mobile devices- the end being a tool that is increasingly versatile.
Google announced the launch of the Knowledge Graph on 16th May, 2012. The idea behind its release was to amplify the value of information returned by its sources. It began in English, later extended to Spanish, French, Portuguese, Japanese, German, Russian and Italian. As of 2017, it has also incorporated support in an Indian language –  Bengali.
Google also constantly works towards acquiring companies that are data-driven. For instance, it acquired the UK based artificial intelligence company DeepMind. As a result, they became better at understanding where users on the web come from and how they conduct searches based on intent.
All in all, the Knowledge Graph is a means of helping Google understand what your desired web page results should be about. It is a fun tool, so do go check it out!
To know more, visit https://www.google.com/intl/es419/insidesearch/features/search/knowledge.html
If you wish to do some further reading, you can check out the following links as well.
https://neilpatel.com/blog/the-beginners-guide-to-the-googles-knowledge-graph/
https://searchengineland.com/laymans-visual-guide-googles-knowledge-graph-search-a