A collection of over 200 journals, many of them Indian and almost all being open access.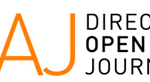 A collection of articles from over 8000 Journals, of which over 900 are Health Sciences Journals – all of which are Open Access.

A collection of journal websites, all Indian and all available free online.