Our Progress, Achievements and Milestones
November 2017
QMed invited to collaborate with The Union to conduct a workshop in Mandalay, Myanmar. The first International workshop for QMed
November 2017
QMed's Founder – Vasumathi is featured in Medium.com – 24-11-2017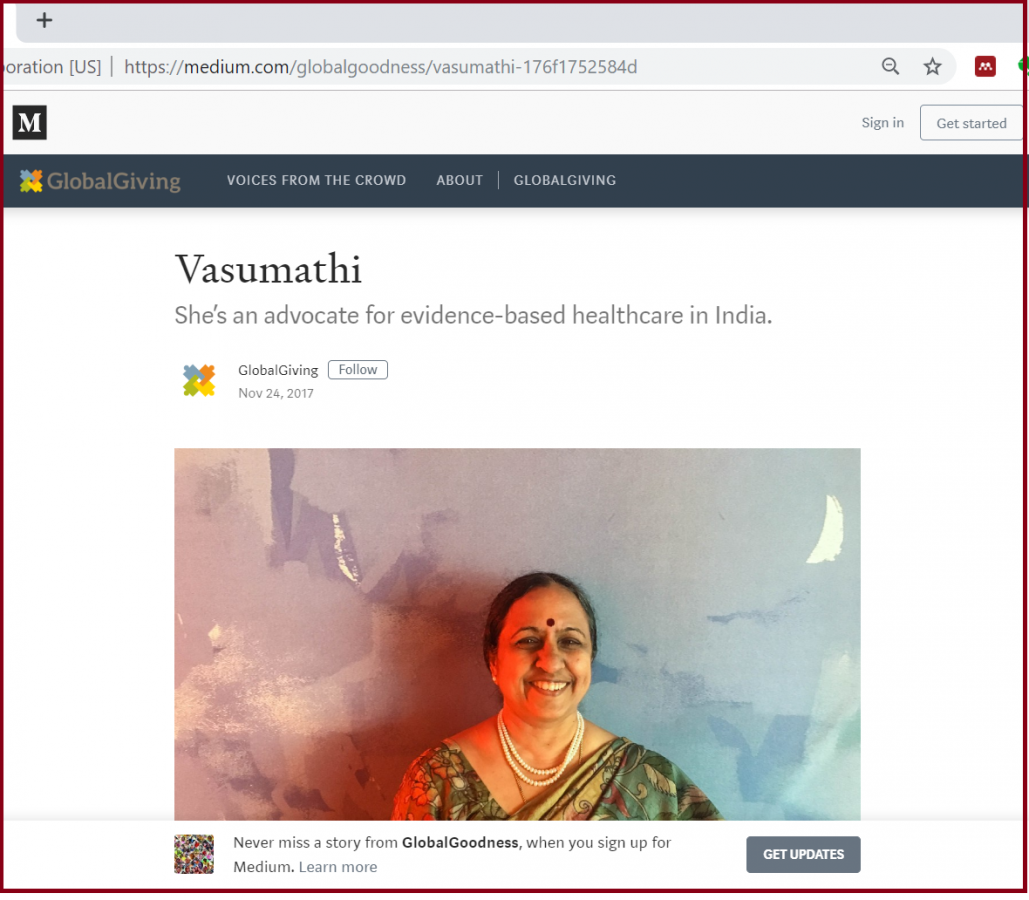 November 2017
Accolades from GlobalGiving (our International Crowdsourcing platform)
She's an advocate for evidence-based healthcare in India​! That is the headline with which our founder is featured in GlobalGoodness! Do click to read more
​GlobalGoodness is a publication of GlobalGiving—a crowdfunding community powered by nonprofits, donors, and companies in 170+ countries. This is where GlobalGiving shares stories about making the world a better place.
The GlobalGoodness publication is hosted on Medium.com – a platform about People – with emphasis on quality, original ideas and interesting and varied viewpoints.
​We also got three badges from GlobalGiving for all the hard work we did, in raising funds through their page​

August 2017
8-August-2017: A workshop on Board Governance organized by the Centre for Advancement of Philanthropy.
This workshop elaborated upon the constituents of law and what comprise "must do" activities for a nonprofit board. The participants also got recommendations on how to have a good board and to get the best out of the same
July 2017
We conducted our 200th Workshop. This was part of our "100PGs program"
July 2017
QMed participated in a workshop for NGOs organized by Daan Utsav & Guidestar India on 24th July
May 2017
Our Founder Vasumathi Sriganesh attended the Annual Meeting of the Medical Library Association(MLA), USA on 27 to 31-May-2017
April 2017
QMed invited to collaborate with The Union (IUATLD) to conduct a workshop in Shillong for 20 Medical Teachers
April 2017
The Huddle, organized by UnLtd India, an organization that had mentored us in the year 2010-11, and helped us get very focused in our goals and activities on 6th April
October 2016
QMed invited to collaborate with The Union (IUATLD) to conduct a workshop in Delhi for 20 Medical Teachers