Students Speak
When we use the term "Students", we normally mean students enrolled in an institution / university. However "Students" for our online courses or workshops have included faculty of institutions, practitioners of all streams of health sciences, Deans & Directors of Institutions and even Vice Chancellors of Universities. So the feedback is really from a range of participants. It is in the form of stories, short testimonials and videos.
We do get opinions and feedback off and on, by people who have not attended our programs, but have heard about them or discussed them in detail with us. We have visitors to our office, who write in our Visitors' Book. We have feedback that we receive for reports that we post on our Fundraising page on GlobalGiving. Occasionally someone just tells us something good, during an interaction. We have included these testimonials too, in this page.
Would you like to share your thoughts? You may have attended a course of ours - a workshop, or an online course. You may have heard a lecture by Ms Vasumathi or one of our QMed team, at a Research Methodology workshop. You may have interacted with us at our office or at some event. If you would like to share your thoughts about QMed's work, do click here to submit your testimonials. We would be delighted to hear from you and share your feedback on this page.
---
Impact Stories
Flip through the pages of this book to see what our participants have to say about us.
Ms. Bianca S. Honnekeri, 3rd MBBS Student, Grant Medical College and Sir J.J. Group of Hospitals, Mumbai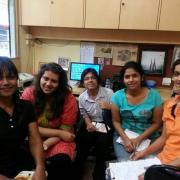 "As someone who hopes to someday practice evidence-based medicine, acquiring a degreof efficiency at gathering relevant evidence is a pressing concern. Literature reviews, finding evidence, treatment guidelines, and even simply reading a journal article of interest- they're all tasks that bode a sense of tedium, because finding precise or relevant material is not always easy. My friends and I decided to do this workshop to make our foray into the world of evidence-based medicine slightly less daunting at the outset. By the end of the workshop, I was overawed. Simply tweaking a few settings in PubMed throws up a goldmine of information, and a few clicks more- and it has been reformatted for citation too! Learning to use Mendeley means careful archiving of material is done almost automatically.
I am very grateful to the QMed Foundation for changing the way I feel about reading scientific literature- rather than inspiring a sense of dread, I now deeply look forward to it. I recommend this workshop for every student who wants PubMed to be a faithful ally!"
Dr. Deepika Nandanwar, Final Year PG Student, Dept of Community Medicine, Seth GS Medical College & KEM Hospital, Mumbaii

"After attending your session of "How to use PubMed" it was really easy for me to search the references that I had got earlier. I could cite the same articles for which I had got the abstracts. And I could find around 37 articles in just 2-3 hrs for which I earlier took around 3-4 days. Also it was very easy to arrange my references int he required style by using the reference management software that you taught. It has really helped me to submit my thesis on time without delay".
Ms Rachana Jasani- Doctoral student, Department of Nephrology, KEM Hospital, Mumbaii
"I have attended two workshops of QMed, one on PubMed Basics and the other on Reference Management using Mendeley. The literature search workshop has helped me gain a systematic approach to scientific content. Prior to this I had no formal education on scientific journals and access to its contents. Most often, my situation was like driving through all lanes but landing nowhere. What I was lacking was a structured and organized searching ability which I could master through the literature search lectures of QMed. I wish these lectures were a part of education system, nevertheless, they can be added now as well if brought to limelight. Reference management is a highly skilled approach of saving as well as reproducing all our references whenever required. It also has a tool of linking our references with internet which ensures of safety against technical threats like loss of data from computer or hard disk etc".
Dr. Amitabh Sen – Clinical Associate Professor, Department of Anesthesia, Cardiac Division, Amrita Institute of Medical Sciences, Kochi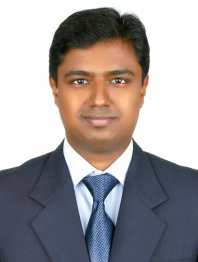 Dr Sen had attended our full day program organized by Amrita Institute, just after he finished his cardiac anesthesia post doctoral fellowship. He recently shared the good news about his manuscript being accepted by the Annals of Cardiac Anesthesia.
He says:
"I had no idea about proper PubMed search, Cochrane reviews and Reference Managers till I did a workshop by QMed. The workshop really helped me to improve my research skills and the learning was of immense help while writing my manuscript. It has been accepted for publication in next issue of the Annals of Cardiac Anesthesia. I have also been working on two separate papers, one of which is near submission in a high impact journal. I do hope to get it t through. I sincerely thank QMed for helping physicians and medical students in this country which is still lagging far behind in medical research".
Pranab Chatterjee-Final Year Resident in Community Medicine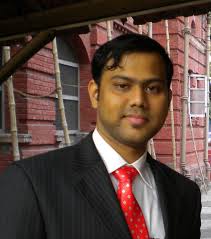 "Good research questions exist right at the cusp on which current research is forming nebulous concept clouds. Naturally, if you are interested in finding the best ideas, and want to rub (proverbial) shoulders with the most happening crowd in a research niche; you need to find out where the "secret" party is happening.
I have always had a taste for the esoteric when it came to my research interests and for my MD dissertation, I decided I would look at the mental and physical health of homeless men. Aside from the methodological challenge, locating the critical evidence to first plan, then execute, and finally, critique my work, was a major hurdle. Usually, MD students working on their theses allot a month or so for their review of literature, a large part of which is dedicated to basically locating, and poring over large segments of irrelevant publications of cherry-pick the few that "get stuck in the net" by chance. I, however, needed just about a week to complete mine. I was helped by the fact that my research question was not vastly explored; however, it would be unfair of me to usurp all the credit for the feat.
It all began one fine winter morning in Kolkata, where, as a medical student, I attended a workshop by Vasumathi ma'am on Literature Searching. I went in, feeling quite sure I was doing it right: I had, after all, not only heard the names, but also used PubMed and Google Scholar and Cochrane Databases a fair bit. But, by the end of the four-hour session, I was humbled. I realized till I attended the workshop, I had been using these amazing online tools much like a Palaeolithic man uses stone instruments: hacking away blindly, with brute force, and hoping for the best. And I could say that I was not the only one, because it was the first time I saw a full audience, alert and active, questioning, doubting, raising hands, debating, all after a full, sumptuous lunch!
QMed has created an information revolution in India, especially in the newer generation of medical students who are more tech-savvy and research oriented. As Evidence-Based Medicine becomes more ubiquitous in our day-to-day practice, searching, finding and appreciating critical literature becomes a skill that every physician needs to have.
'An undergrad medical student - and I already have a research publication in PubMed"! Bhavik Shah- a final year medical student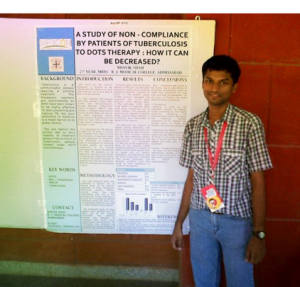 " I study in a pre,ier medical college in India. At the undergraduate level there is no exposure to research. In my second year, I applied for the Short Term Studentship program of the Indian Council of Medical Research. My project was not selevted, but I was lucky to be selected to present it at 'Medicon'. Medicon us an annual conference for undergrad medical students. It was in this event, I learned how to search medical literature from Mrs. Vasumathi Sriganesh. She delievered a lecture on this topic, at a workshop on Evidence Based Medicine. I took a lot of notes. I realized that I had hardly known anything about this!
A year later, a faculty member in my college encouraged me to submit two case reports. I reffered to all my notes to do the search, and this helped me complete two manuscripts in a month! I submitted them to a PubMed indexed journal with a good impact factor. After a couple of revisions, (now that sounds quick, while I was doing the revisions, the intervals seemed long!) one morning I finally heard the 'magic ping' in my Blackberry-giving me the good news - "It is a pleasure to accept your manuscript for publication!". Here is the link to my article. Thank you QMed- directly from the left ventricle of my heart :) You have no idea how grateful I am for the workshop at Medicon!"
Dr. Kaustubh Chaudhary, a young physician who has worked in remote tribal areas and is keen on research.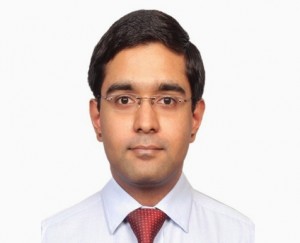 "Long back I read in the TOI (Times of India) - that the finesse of a great teacher lies in breaking down the most intricate theorems to lucid nursery axioms. For example, Heisenberg, the father of particle physics said that a great teacher is one who can make E=mc2 sound as simple as 2+2=4. All I can say is that the workshop on PubMed by Vasumathi Sriganesh embodies this trait. After attending her workshop I can share some learning benefits: I've worked extensively on Cerebral Malaria in tribal Assam, an area devoid of any guidelines or even significant literature. MeSH helpmed me enormously in retrieving papers on 'Falciparum Malaria in Asia' and also 'Tribal Research'. While working on other papers in Neurology I benefitted largely from filters and simple searches to weed out redundant and irrelevant papers.
Vidya Giri Shankar has just started her postgraduation in psychiatry at the TNMC- Nair Hospital, Mumbai. She attended QMed's workshops on PubMed and Cochrane LIbrary, just prior to starting her PG program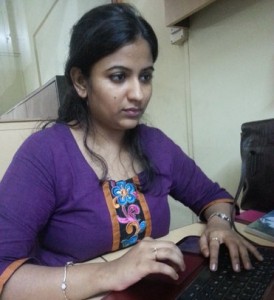 "Five clicks are all it takes - from problem to solution"
"With QMed's guidance I am now able to access my most specific requirements of journal articles and definitive answers to therapeutic dilemmas. I come straight to the answers, without having to exhaust hours of unnecessary inouts. My experience with QMed has been transformational in the way I approach and us scientific data. And what is most fascinating is QMed's principles can be applied universally. Five clicks are all it takes to go from problem to solution."
---
Testimonials
"This is something that I feel all medical students – especially post graduates should know. However it is one of the most underrated aspects of medical education.
The course was flawless."
This testimonial was given for our Online Course
Mohit Gupta Surgeon & AMASI Member
I am extremely thankful for investing precious time in clearing our queries about systematic reviews
Dr Shruti wrote this in our Visitor's Book after having a mentoring session. She is an MDS student. She came with two colleagues – Dr Burhanuddin and Dr Rex who also expressed similar sentiments
Shruti Vichare Dentistry
Listening to Ms Vasumathi and the QMed journey was incredible. I had an opportunity to understand a new field of work. Wishing the organization the very best in their endeavours
Sukanya works for iVolunteer, Mumbai and wrote this in our Visitors book
Sukanya Sudarson
Testimonial given at a workshop conducted in ICMR Regional Medical Research Centre, Bhubaneswar
This I think was a much needed workshop for the researchers as well as students – especially pursuing Public Health Courses. The students and faculty of medical colleges and nursing institutions should undergo this training program.
Subrata Kumar Pal RMRC, Bhubaneswar
---