Donor Report
---
---
Mar 28, 2023: March updates
March has been a great month in some ways and tough in other ways. Great because we had one new institution joining us for our ELearning courses, and two renewing access for the same. The new institution to take up our courses is the Dr DY Patil Medical College from the city of Pune. The two to renew are Sri Manakula Vinayagar Medical College, Puducherry and the Amrita Institute of Medical Sciences, Kochi. We are already in conversation with them to see how we can work together to encourage maximum learning from our courses. More importantly we are stressing this year that they must throw the courses open to the undergrad medical students, as we are really convinced that this is the best stage for a student to learn these skills.
March has also been tough as several family members and I, fell ill. I had to stay away from work for most of the month. I am glad that we mastered a lot of "work from home" methods and processes during the pandemic and so I could at least execute any urgent and important functions.
I have to specifically thank my colleagues for all their support and taking on more responsibilities from me during this month. They have done a great job. I am also happy to share that this month we have had Priyanka join us at QMed. Priyanka will be taking care of a lot of digital promotion work – something much needed to get everyone in the country to learn more about our courses and enrol.
This month's update is short and I hope to give you better stories and news next month from QMed.
Wishing you the best and thank you for being there for us!
Feb 23, 2023: Foundation story – Origins of QMed Foundation – "The CD Story"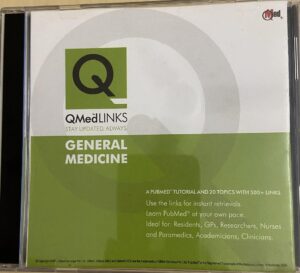 Category: Organisation Founding Story
Keywords: CD, General Medicine CD, Organization story
Date: Thursday February 23, 2023
People often ask me what made me start QMed. The answer is – several things, but a big trigger was the QMed's "General Medicine CD"
What was this CD about? When QMed was first only a private limited company, one of the activities we often did was to carry out PubMed searches for students, and doctors who asked for them. Every topic was different and obviously, the search steps were different.
Rajeev Surana, who used to work with us then kept saying "You should not have to re-do searches every time. Every effort needs to be re-usable". My standard response used to be – "When every individual's search request is for a different topic, how could we not re-do them?"
And yet, we deliberated upon this thought. And came up with a great idea. Why don't we start a project where we list several topics and build in a ready PubMed search for each of them? Once people understand this, we could create more projects with more topics, and even make customized ones for those who need them.
We decided to choose 20 general diseases and conditions like Asthma, Diabetes, Hypertension and more. For each topic, we planned 10 subtopics like causes, diagnosis, treatment etc. For every subtopic, we planned three links. Links to
a) Not free (articles with evidence)
b) Free articles
c) Articles available in common journals
Here is a sample
Glaucoma-complications
a) Not free
We thus had 500+ hyperlinks to "pre-done" PubMed searches. When one clicked a link, it would open PubMed, run a search on a topic and fetch just a reasonable number of results (around 30-50 in most cases) – real time. We had built the query so that only the latest and most relevant results showed up.
We launched this product – on a CD then – as we did not want people to remember another password. This was in 2004. People were not yet comfortable with remembering too many passwords. The CD also had a PubMed tutorial – both – in a digital format as well as a print booklet. We had priced the CD at a reasonable Rs 350/-
We expected large sales. We sold just a few.
But there was a key incident which was a major contributor to our decision to start a not for profit trust. A doctor heard about our CD and called us for details. My colleague explained it all clearly. The content in the CD was a PubMed tutorial. Many topics were available as "Internet links". He would have to run the CD with an internet connection on. Every time he clicked a topic, it would run a real time search and fetch him the latest updates. He heard it all.
After getting the CD he called us and said
"This is only PubMed which is free and you are charging me for it. I don't want it".
After all our explaining, he had not understood anything about our offering.
This incident made us feel strongly about the need to create a not for profit arm. We felt it was high time we started teaching what PubMed actually was and what capabilities it has for structured searching.
Only after students and professionals had the necessary literacy would they be able to appreciate something like this.
It took us another three years to register and formalize QMed Knowledge Foundation – in end December 2007. Between then and now – 2023, which is about 15 years, we have conducted nearly 250 workshops and delivered more than 500 lectures. The need is still strong! We need to reach a large denominator.
About QMed
About Courses
More Links
Follow Us
Contact Us
QMed Knowledge Foundation
A-3, Shubham Centre, Ground Floor
Cardinal Gracious Road, Chakala,
Andheri East, Mumbai - 400099.
Phone: +91-22-40054474
Email: info@qmed.ngo
Any questions? Write to us