QMedCONNECT Newsletter: June 2015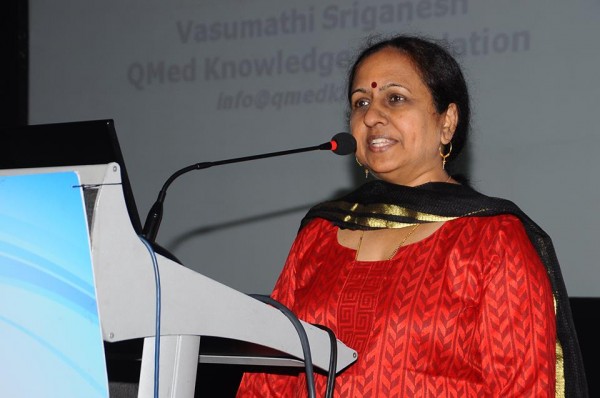 Dear friends
June in Mumbai marks the start of the rainy season. And often there are days when it "does not rain but it pours"! We did have a day like that to herald the start of the rainy season, when Mumbai went out of gear – as it happens once or twice every year! For QMed it has suddenly started pouring lectures and workshops invitations! We are of course delighted. This month I delivered three lectures. That is not unusual. But in the recent past, we requested all those who invited us to give a lecture, if they could give a higher than usual honorarium, since we are still not formally / regularly funded. And I am happy to share that two of the institutions gave us a larger than normal honorarium. A big thanks to them. It is difficult to get such an increase from the Government Medical Colleges, as they have several constraints in the system, but we hope that in the coming months, as all the MUHS workshops get swinging, we will overall get something more.
More interesting – it has been pouring workshops invites too! There are several conferences for UG students this year, and every one of them has invited us to do a preconference workshop on searching and/or reference management! We are touched. We have done two in June, and there are three more in the offing, till August. In almost every place, the institutions have also agreed to have workshops for PG students / faculty. And so – we have overall around 6 – 10 workshops coming up till August 2015! We are getting along! We hope all this translates to such training being part of the curriculum, in the near future.
This month, I was lucky to be referred to a fantastic article by T Scott Plutchak – a medical librarian by profession, who has been with the University of Alabama at Birmingham for several years. Scott had written an editorial in 2005 in the Journal of the Medical Library Association, titled "Inept and satisfied redux". I learned about it only now, and I had goosebumps when I read it. He has written practically everything I have felt, about the issue of literature searching and the lack of these skills in our country. Worse still, for a long time no one even knew that it was important to have such skills! I wrote to Scott, and requested him for earlier detailed article that he wrote, on the same topic. In that, he has mentioned about how librarians should be very concerned, when several users are inept in searching, but very satisfied with their results! And how they need to rethink about the services that they should be offering, to tackle this issue. I told Scott that everything he wrote resonated with our scene here, and I pointed him to the QMed site. He wrote back commending our work. And… hold your breath – he made a generous contribution to QMed!!!
As I said – sometimes it does not rain, but it pours!
Vasumathi Sriganesh

Do You Know
For those who use Mendeley to store their literature, and cite from, while writing – have you struggled to get the Vancouver style, with square brackets, for citing your references in the text? If yes, here is an easy solution. In Mendeley Desktop, click View/ Citation style / More styles. Then go to the 2nd tab – Get more styles. In the search box type Elsevier Vancouver. It will appear as a choice. Click it and click Install. Once it is installed, go to the 1st tab – 'Installed'. Find this style, click it and then click "Use this style". When you write your paper, and use the Insert Citation option in Word, you will get your citations as numbers within square brackets. If you need to use superscript for your citations, follow the same procedure, but choose Vancouver superscript instead of Elsevier Vancouver.

Interesting Reading

The article: Inept and satisfied, redux
Plutchak TS. Inept and satisfied, redux. J Med Libr Assoc. 2005 Jan;93(1):1-3.
This editorial in the Journal of the Medical Library Association, was written in 2005. We believe that a lot of it holds good for India even today. The author categorizes those who search medical literature in a 2*2 grid – with their "eptitude" versus ineptitude for searching matched with their levels of satisfaction with their search results. He cautions that those who are inept at searching and yet highly satisfied, are the ones that we need to be very weary about! In fact, as he rightly puts it, we need to be frightened if they get back to their clinics with literature results that could be totally inadequate. (This – because, they would be likely to use such results as evidence).
Interestingly Scott further describes that just as someone who is great at using a word processor's commands is not necessarily great at
writing
(that is a separate intellectual skill), it is a fact that just because someone who knows the commands in a search engine or a database, that does not make him or her, skilled at literature searching. Searching is an art and a science that is based on theories. And one needs to get trained for that! A must read article – and more importantly, I would urge everyone who reads this to spread the word in medical schools – about the importance of training in literature searching.

Story/Participant Experience

Dr. Raghu Krishnan, Private Practitioner, Gomathi Eye & Cornea Centre, Mumbai, shares his story
Excellent concept of educating doctors to conduct literature search. Truly, a 'must do' for all doctors.
The sessions are conducted with great thought and the execution is superb. Almost always, the queries arising in the discerning mind of the students are answered in the subsequent discussions. For an eye surgeon like me, the sessions conducted by QMed have been very useful in looking for articles of interest, whenever a patient presents with a difficult problem. I am really glad that I could attend the sessions. It really simplified the process of literature search and, some day, should help me in research.

I) Talks on literature searching / referencing /citing at
Sankara Nethralaya, Chennai – June 3.
Dr Vasantrao Pawar Medical College, Hospital and Research Centre, Nashik – June 11.
Research Methodology workshop organized by three medical colleges KSOS & TACO, Thrissur – June 27
II) Workshops@ Institutions
Full-day workshop on Literature search and Reference Management for 29 faculty members of Sri Manakula Vinayagar Medical College and Hospital, Puducherry -June 25


Full-day workshop on Literature Searching and Reference Management for 25 undergraduate and post-graduate students of Sri Manakula Vinayagar Medical College and Hospital as part SIMSCON 2015, Puducherry – June 26.

Participant Feedback
Searching for articles, I thought, it would be very easy with search engines like Google Scholar. And I thought nothing more is required to do a literature search from internet. Only after attending this workshop, it became clear, there is enormous amount of information that can be retrieved with less time and less effort. The workshop was wonderful. The resource persons were very practical and they answered our queries effectively. Only regret, the time factor, it would have been nice, if it has been for few more days. Faculty SMVMCH



This is must for all PGs who are starting their courses. I had great difficulty in writing my protocol and thesis during my PG period, even though I come from India's premiere institute. Faculty, SMVMCH


The workshop was extremely useful as a 1yr PG for me. As I am doing my thesis now. Workshop was supervised which helped us not to lose out on any information conveyed. On the whole the session was very useful and I have learned many new information which will help me save my professional hours. First year PG student, SMVMCH


When I registered in this workshop, I had nil knowledge about PubMed and QMed etc. This workshop created a ground for me to know many newer things and to get an idea on research side. I have learned many things which I can implement for my future use. UG student, SMVMCH



I am interested in doing research. But I odn't know how to start it how to search the articles. But after attending this session I gained knowledge about all those things. I learnt many new things today. And your way of teaching is awesome. Thank you ma'am for teaching those wonderful things.

UG student, SMVMCH

UGs engaged in group activity
Copyright © QMed Knowledge Foundation – Trust registered with the Charity Commissioner Mumbai – Registration No: E-24663