QMedCONNECT Newsletter: March 2008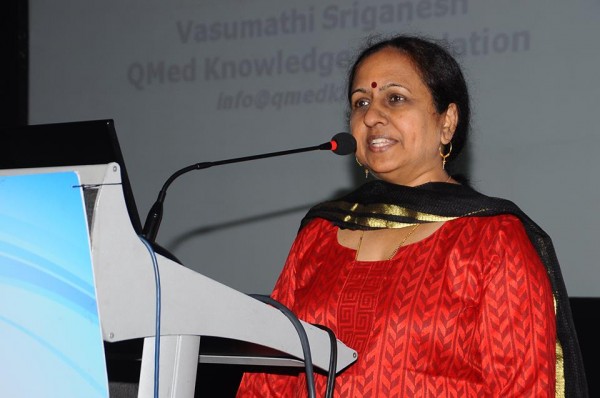 Dear friends,
The QMed team hopes that all of you enjoyed reading our first newsletter.
This month, I was delighted to be invited to participate in an event that was a part of the MCI's Platinum Jubilee Celebrations. Another good news that I wish to share with you is my contribution of a Chapter, "Searching for Evidence" in a recently released book on Clinical Research and Evidence Based Medicine, by Dr. Ajit Babu.
Piracy, plagiarism and copyright violations sadly seem to be on the rise. Do read an interesting bit about the good work done by the Mumbai police in tackling piracy . What we do need though is good education on these topics and an insight into what is allowed under Fair Use for the Academic community. QMed would love to hold a workshop on thisissue in the future.
In the last month we have worked really hard at planning the Foundation's future directions. We had taken inputs from our Trustees in the month of February and worked on these as well. The effort culminated in our having an "Away Day" (actually 2 days) at Karla near Lonavla, thanks to a neighbour's family who offered their bungalow for our meeting. We had excellent brainstorming sessions and are now busy putting down deadlines for our furture targets.
We invite ideas on making the newsletter participatory. Do write to us at info@qmedkf.org.in.
Vasumathi Sriganesh

Membership for Doctors
Our Offerings:
Medical Journal Articles
Literature Searches
Updates on specific medical topics of interest
Training programs in using PubMed and other EBM resources
As a member, you are entitled to the following free services:
3 Articles
3 Literature searches
1 Webpage - to include your professional profile
A CD on how to use PubMed easily with search examples for 20 diseases
Monthly alerts on your specialty
Annual membership fee is Rs 1500/-
For further services at special member rates and Membership details for PG students visit www.qmedkf.org.in/qmedlit/members.htm

Training programs: PubMed - Basics and Talks on Literature Searching
Vasumathi Sriganesh was invited as a subject expert to attend a workshop on March 8, at the Amrita Institute of Medical Sciences, Kochi. This workshop was conducted by AIMS as a part of the Platinum Jubilee celebrations of the Medical Council of India. The theme was Telemedicine and Medical Informatics in Medical Education, Research and Practice.
Vasumathi Sriganesh will be attending a one-day workshop - The 2nd South Asian Regional Symposium on Evidence Based Health Care, at the Christian Medical College, Vellore on April 9, 2008.


Upcoming events and activities
PubMed – Basics : Training Program

Sunday April 6, 2008 from 10 am to 1.30 pm
Venue: Hall of Quest, Nehru Planetarium , Worli, Mumbai.
Friday April 25, 2008 from 10am to 1.30 pm
Venue: NIRRH, Opp KEM Hospital
Registration
Limited registrations on a first-come-first-served basis. The Fee is Rs. 500/- for students (proof of studentship required) and Rs.1000/- for others. Payment can be made by cash, cheque or demand draft payable to "Quality Medical Knowledge Foundation".
PERfect your Internet search
For improved Patient care, Education and Research
Tuesday April 22, 2008
Venue:
Padmashree Dr.
D Y Patil Medical College, Nerul, Navi Mumbai
(For Students & Staff of the college)
Training inquiries
For more details or for holding training programs in your institution, please call us at 022- 40054474/ 75 or
e-mail us at info@qmedkf.org.in

World Health Day
April 7, World Health Day, marks the founding of the World Health Organization. It is the organization's most visible effort to raise awareness of a key global health issue which it selects each year. The First World Health Assembly created the event in 1948 and it has been celebrated on April 7 annually, since 1950. WHO organizes international, regional and local events on the Day and throughout the year, to highlight the selected priority health area.
In 2008, World Health Day is dedicated to the theme "Protecting health from climate change." The theme was selected in recognition of the fact that climate change is posing ever growing threats to global public health security. A range of activities in every country will aim to stimulate active, long-term involvement. World Health Day 2008 offers an opportunity to revitalize political commitment to address climate change.
Source: www.who.int/en/

HIFA 2015 Campaign
QMed Knowledge Foundation has been identified as a supporting organization for Health Information for All 2015 (HIFA 2015) campaign and is included in the official website of Global Healthcare Information network www.ghi-net.org/campaign/ .
BMA provides financial support for HIFA2015
HIFA 2015 has announced that the British Medical Association has awarded a grant of £15,000 towards the cost of running the HIFA2015 campaign during 2008.

As part of this grant agreement, HIFA2015 is launching the first of its seven challenges for 2008 which is 'Meeting the information needs of medical, nursing, midwifery and allied health students in low-income countries.

Why health students? For at least three reasons:

1. Members of HIFA 2015 have emphasised the continuing lack of availability of information, including basic textbooks, for health students in the poorest countries.

2. HIFA 2015 already has the in-kind support of organizations that include a focus on health students.

3. The HIFA 2015 and CHILD 2015 members already include a large number of health students worldwide and therefore serves as an ideal sounding board to understand better the information needs of health students, and how we can more effectively meet them.

Do we know the information needs of healthcare professionals in India?
Has anyone conducted a Market Research in this area?
QMed Knowledge Foundation plans to undertake a small survey to assess the information needs of Healthcare professionals in Mumbai very soon. Those who are willing to participate in this survey are requested to contact us at info@qmedkf.org.in
Forthcoming WHO events:
May 31, 2008
World No Tobacco Day

June 14, 2008
World Blood Donor Day

August 1, 2008
World Breastfeeding Week
If you are organizing any activities or events around these days do let us know. We will feature them in QMedCONNECT.

Medical Book Piracy Racket Busted In Mumbai:
Based on a complaint lodged by the Publishers Association, UK and its member companies, the Mumbai Police recently busted a major racket of medical book piracy network in the city. Six persons were booked under the sections of the Indian Copyright Act and Indian Penal Code for copying black and white and colour prints of original books and manuals of leading European and American publishers and selling them at rates lower than market price. In several cases, multiple copies of these books on specialties like Pathology, Dermatology, Orthopedics, ENT, Radiology were copied and sent on request to medical practitioners across the country by courier, with the transaction completed by online transfer of money.
Some relief for Medical Book Publishers and Kudos to the Mumbai Police!
Source: The Sunday Express, 30 March 2008

Article of the Month:

Dr. Ajit N Babu
Clinical Research Methodology and Evidence-based Medicine: The Basics
ISBN: 81-7225-3087
B. I. Publications Pvt Ltd, 2008
Research methodology is the discipline concerned with the scientific conception, design, implementation and analysis of research. Evidence based medicine (EBM) is an approach for evaluating and applying medical knowledge, particularly that derived from original research, in the care of individual patients. Since these two entities really form a continuum, this book has combined them to give the reader a sound introduction to these related subjects.
Quote of the Month
I was caesarian born. You can't really tell, although whenever I leave a house, I go out through a window!
- Steven Wright
Copyright © QMed Knowledge Foundation – Trust registered with the Charity Commissioner Mumbai – Registration No: E-24663