QMedCONNECT Newsletter: July 2012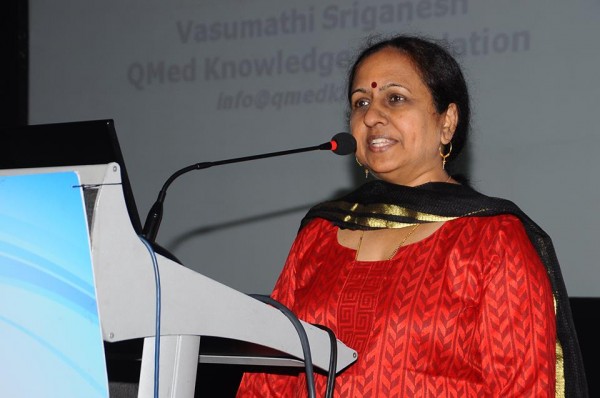 Dear friends,
July was a wonderfully hectic month. Four lectures at Research Methodology / Writing workshops, a full day hands on workshop on searching PubMed, and two lectures on searching the Cochrane library were in my agenda. And then there was Medicon 2012, this time held at MGIMS, Sevagram, Wardha. Medicon is an event I enjoy every year as the event is completely handled by Undergraduate students, and is ably supported by people like Dr MG Deo (who spearheaded the Medicon conference concept)and Dr Vinay Kumar (co author of the "Robbins Pathology" textbook as students call it). I delivered a lecture on literature searching at the pre conference workshop on EBM, and this session also had lectures and exercises by Dr Arjun Rajagopalan of the Sundaram Medical Foundation, Chennai and Dr Manu Mathew from the South Asian Cochrane Network & Centre, Vellore. I also enjoyed judging poster sessions and one oral session in the conference. It was wonderful meeting luminaries like Dr Abhay Bang of "SEARCH" Gadchiroli, Dr Lalit Dandona from the Public Health Foundation of India and Dr Roli Mathur of the ICMR. I must also appreciate the excellent hospitality by the organizing team, volunteers and faculty of the MGIMS. Hats off to Team MGIMS and INFORMER for another successful Medicon.
We have 20 new Friends of QMed who joined us this month - after our sessions at Somaiya, Bombay Orthopedic Society and the DNB session at KEM. At least 20 more have expressed interest and should join us soon.
We welcome Lakshmi Padmanabhan who joined QMed this month. With a background in Social Work and having worked with a couple of health related NGOs and also in E-learning initiatives, Lakshmi is working on our fund raising initiatives and will also be contributing her skills in the E-learning modules we are creating.

Do take a moment to check out our immediate funding needs and help us grow!
Vasumathi Sriganesh

Help QMed GROW
Become a Friend of QMed! You will get our help and expertise. You will also be part of a moment that contributes to one of the most important initiatives for the health care profession! We request for a small donation of Rs. 250/-. If you are a member of INFORMER, you automatically become a Friend of QMed, because you have already committed to the same cause .
Larger donations are most welcome. Such donations help us take care of several costs that we incur for our lectures and workshops.

Rs. 4000/- Awareness lectures for health consumers
Rs. 12000/- To host a half day workshop for students and health professionals
Rs. 25000/- Full day hands on workshops for students and health professionals
Airline reward points- Donate your reward points for us to travel and conduct workshops in other cities

Note: For our training programs, we do request participants for a small donation too. These amounts contribute to keeping our programs updated and for us to hand hold and support participants later. And they are like a "Guru Dakshina" too!
To make a donation, do check out the page http://qmedkf.org.in/aboutus/donations.htm for details. You will get the applicable IT Exemption for donations under Section 80G of the Indian Income Tax Act. We can accept overseas donations as we areregistered for the FCRA.

Do You Know?
POPLINE - provides access to 350,000 carefully selected publications and resources related to family planning and reproductive health. It is a free resource, maintained by theKnowledge for Health (K4Health) Project at the Johns Hopkins Bloomberg School of Public Health/Center for Communication Programs and is funded by the United States Agency for International Development (USAID). It consists of bibliographic citations and abstracts to a variety of materials including journal articles, scientific, technical, and programmatic publications as well as unpublished documents and project reports (gray literature).The database adds 7,000 records annually.http://www.popline.org/

Forthcoming Training Programs
We would like to hold half day interactive workshops or full day hands on workshops on searching PubMed / Cochrane Library. Do get in touch if interested. Watch our website and Facebook page for announcements.
Forthcoming Lectures:
August 17, 2012 - Statistics & Research Methodology prog at KEM, Mumbai
August 18, 2012 - Lecture on Organizing & Storing References at "Illuminati" a UG student event organized by AFMC, Pune
August 30, 2012 - Statistics & Research Methodology prog at KEM, Mumbai
September 8, 2012 - Workshop at the Conference of the Diabetic Foot Society of India
September 25, 2012 - MECOR workshop organized by NIE Chennai

Other Events of Interest
Public Health Foundation of India's events in August. More details
MEDSICON 2012 - Students conference organized by Mahavir Vardhman Medical College - 10 - 12 August 2012. More details
Art & Science of Writing a Paper - conducted by "Indian Pediatrics" - 11-12 Aug, 2012. More details

International Conference on Epidemiology - 16-18 Aug 2012.More Details
Workshop on Using Systematic Reviews in Evidence-Informed Healthcare and Health Policy. 27-31 Aug 27-31, 2012, Christian Medical College, Vellore. More details
OSMECON 2012 - Students conference organized by Osmania University Hyderabad. 31 Aug - 2 Sept. More details
Methods in Epidemiological Clinical and Operational Research (MECOR): Level 1: Introduction to Clinical Research Methods. 24th - 29th September, 2012 at NIE, Chennai. More details

20th Cochrane Colloquium - 30th Sept - 3rd October - Auckland, New Zealand. More details
Workshop on Completing a Cochrane Systematic Review. 12-16 NOv 2012, Christian Medical College, Vellore. More details

If you are organizing or know about other conferences, pre-conference workshops or training programs related to medical research, do let us know; we would like to include these in our website and newsletter.

Resources for You

Supercourse Lectures. Supercourse is a repository of lectures on Global Health and Prevention. if you wish to receive a copy, do write to us at info@qmedkf.org.in


IJME http://ijme.in/issue203.html

We would like to bring to your attention a selection of articles in the July - September issue of the Indian Journal of Medical Ethics. The "Discussion on Medical Humanities" features an Editorial and ten articles including two from students (an undergraduate and a resident). The guest editor says that Medical Humanities is an interdisciplinary programme, drawing largely on the humanities and the arts, that aims to address the emotional, and psychological aspects of medical training not taken care of by the standard undergraduate medical curriculum. The Medical Council of India while working on changes in the curriculum has perhaps for the first time, mentioned medical humanities in the course components, and included a direction to medical colleges to appoint faculty who are experts in these non-medical disciplines. In the light of this recent MCI initiative, this special issue of the IJME is timely. The collection of articles here represents current thinking on the subject in the country, and will help not only to focus attention on the need to introduce MH, but also to highlight critical pedagogical issues in its implementation.

Training Programs / Talks: Literature searching/ Consultative meetings
July 1, 2012 - Lecture on literature searching for health consumers at a Meeting of the Patient Safety Alliance, Mumbai
July 3, 2012 - Using the Cochrane Library - at NIRRH, Mumbai
July 5, 2012 - Using the Cochrane Library - at NICED, Kolkata
July 11, 2012 - Searching the literature for EBM - at a preconference workshop on EBM - Medicon 2012, organized by INFORMER & MGIMS, Sevagram, Wardha
July 14, 2012 - Lecture on literature searching for PG students of the Medicine Dept of MGIMS
July 19, 2012 - Research Methodology Workshop at the KJ Somaiya Medical College, Mumbai
July 20, 2012 - Research Methodology workshop at Bombay Hospital, Mumbai
July 22, 2012 - PubMed - Full day "hands on session" organized by QMed
July 28, 2012 - Bombay Orthopedic Association's Publish and Flourish Course
July 28, 2012- Research Methodology Workshop for Maharashtra DNB students at the KEM, Mumbai

Document Delivery of Journal Articles
In the month of July 2012, we delivered 53 articles to individual members & libraries. The total number of documents delivered since April 2012 is 203.
Quote of the Month
What is research, but a blind date with knowledge.
- William Henry -
Directory of Indian Medical Sites (www.indianmedicalsites.in)
We have added 25 new sites in the month of July and the total number of sites is 3675.
We invite volunteers to add new sites. If you would like to help, do write to us and we will send you a set of instructions that will make it easier for you to work. Please write "Volunteering for Indian Medical Sites" in the Subject of the email.
Copyright © QMed Knowledge Foundation – Trust registered with the Charity Commissioner Mumbai – Registration No: E-24663