QMedCONNECT Newsletter: November- December 2012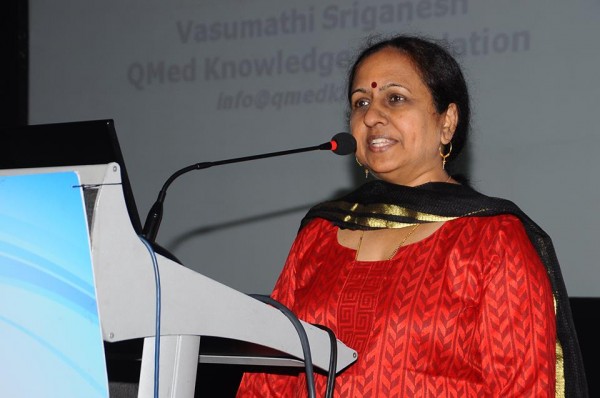 Dear friends
QMed Knowledge Foundation is now five years old! We completed five years on Dec 17, 2012.

As another year dawns, on behalf of my small team at QMed, I wish each one of you a wonderful and productive new year. This issue - once again a double issue, is the last one for 2012. The year has been pretty rewarding for us, in terms of our directions and what we wished to achieve. Starting from April 2012, we conducted 14 workshops and I delivered around 30 lectures at various events. We have had many new Friends of QMed, and we have been working at helping all for their literature search and referencing activities.

We have had the SMLRT (Society for Medical Learning Resources Transfer) from Chennai partially supporting our lectures and workshops, and we are grateful that they will be supporting us further too. What we charge for our workshops never covers our costs, and the SMLRT will help us with funding to cover the deficit. Which means, we are still looking for support to keep our Foundation going, for all other days / activities, when we are not doing workshops / lectures.

I need to share a very exciting development. We are almost through with redeveloping our Directory of Indian Medical Sites [www.indianmedicalsites.in]. We hope to launch the new site in a couple of days. New features like saving your search and creating your collection of favourite websites are some of the exciting changes. There are a few more exciting secrets, which we will not give away now! If any of you is dying of curiosity, do mail us at info at qmedkf dot org dot in and we will give you a password to view our work in progress.
Vasumathi Sriganesh

Help QMed GROW
We have grown slowly and steadily in our first five years. We now need to ensure sustenance and also work towards quicker growth to reach out to all health science students and professionals who need us! How can you help us grow and reach out?
1. Become a Friend of QMed How do you become a Friend of QMed? If you are a member of INFORMER, you automatically one. Others, click the link above and follow the few small, but important steps. Remember you can donate any amount you choose to!
2. Contribute to QMed Whether you become a Friend to learn from us, or anyway simply wish to contribute: To make a donation, check out the page http://qmedkf.org.in/aboutus/donations.htm. You will get the applicable IT Exemption for donations under Section 80G of the Indian Income Tax Act. We accept donations from foreign citizens and entities, as we are registered for the FCRA.
3. Get featured in Indian Medical Sites In our new version of www.indianmedicalsites.in - we will not only acknowledge donors, but every month, the top 15 donors will have their websites featured in special areas!

Do You Know?
An interesting feature in PubMed! On any day, you can learn how many records exist in pubmed, by typing - all[sb] - in the Search box: As of today (3rd Jan) there are 22385701 records
Forthcoming Training Programs on literature searching and reference management
• One day workshop at Bharati Vidyapeeth Pune - preconference workshop - Feb 14, 2013.
• Tentative - One day workshop at Amrita Institute of Medical Sciences, Kochi (to be confirmed)
If you would like to organize interactive hands on workshops on searching PubMed / Cochrane Library and on organizing / citing your references using a Reference Manager Software in your institution, do write to us at info@qmedkf.org.in If you wish to attend programs that we organize, do give us your details so that we could get in touch.


Forthcoming Lectures at:
• IJO Research methodology workshop - Jan 5, 2013
• KEM, DNB students workshop - Jan 24, 2013

Other Events of Interest
Public Health Foundation of India's events in January 2013.More details
Cochrane Protocol Development Workshop, SACN, CMC Vellore - Feb 4-8,2013 - More details
National Workshop on Statistical Analysis Using "R" - Department of Community Medicine, Kasturba Medical College, Manipal University, Manipal. Feb 7-8, 2012 More details

If you are organizing or know about other conferences, pre-conference workshops or training programs related to medical research, do let us know; we would like to include these in our website and newsletter.
Resources for You
Supercourse Lectures. Supercourse is a repository of lectures on Global Health and Prevention. if you wish to receive a copy, do write to us at info@qmedkf.org.in

The implications of biomarker evidence for systematic reviews
Choong MK, Tsafnat G.
BMC Med Res Methodol. 2012 Nov 22;12(1):176.

This is an article where the authors have an extremely interesting hypothesis. They mention that with an increasing interest and development of personalized medicine, biomarkers are used to diagnose or forecast diseases, predict treatment outcomes. These are now used more and more in randomized controlled trials too.

Health professionals use clinical guidelines for treating patients and Systematic Reviews to learn about best evidence. The authors wanted to check if authors of systematic reviews make it a point to include biomarker based trials for their meta-analyses. They say that real evidence will evolve if such trials are regularly included and analyzed for evidence. For this paper they searched PubMed publications for the last 20 years and found that there is a discrepancy between the rate of publications of RCTs with biomarkers and Systematic Reviews including biomarkers and say that only 3% of the latter include these. They propose that search strategies for SRs be modified to include trials with biomarkers and feel that better evidence will evolve in the process.

What we did – November - December 2012
Lectures on literature searching / referencing /citing at
• Preconference workshop on Scientific Writing, at the World Ayurveda Congress, Bhopal - Dec 7
• Seth GS Medical College & KEM Hospital - at the Research methodology workshop for senior faculty- Dec 12
• ESIPGIMSR, Andheri, Mumbai - at the Research methodology workshop for PG students - Dec 14
• Cochrane Protocol Development Workshop organized by the SACN, CMC Vellore at ACTREC, Navi Mumbai - Lecture on "Searching and locating Trials for Cochrane Reviews" - Dec 18
• Dr. G.D. Pol Foundation's Yerala Homoeopathic Medical College and Research Centre - Lecture for PG students - Dec 20
Interactive workshops
• PubMed - Interactive, hands on half day workshop at Xaviers Institute of Management & Research - Nov 24, 2012
• Lotus College of Optometry - Workshop on Reference Management with Mendeley - Dec 6, 2012
Document Delivery of Journal Articles
In the month of November and December 2012, we delivered 51 articles to individual members & libraries. The total number of documents delivered since April 2012 is 383.
Quote of the Month
We need to bridge the gap between the medical libraries and the hospital rooms; take the information out there already, add to it, focus it, harness it - and bring it to the patient who was just diagnosed today.
Bruce Frank Vento
(1940-2000 - American politician, representing Minnesota's 4th congressional district)
Directory of Indian Medical Sites (www.indianmedicalsites.in)
With the revamp of the Directory and cleaning up dead links and more, we are currently at around 3700 sites. We will shortly invite volunteers to not only add new sites, but do even more.
If you would like to help, do write to us . We promise it will be exciting!
Copyright © QMed Knowledge Foundation – Trust registered with the Charity Commissioner Mumbai – Registration No: E-24663